Romantic Smoky Mountains. When you dream of your wedding or elopement do you think of the Smoky Mountains, with it's stunning vistas, and cultural charm as romantic? We do. Through our lens everything about the Smokies, it's history, it's changing beauty, it's steadfast scenery, it's deep culture all bring romance to every celebration we have at Honeysuckle Hills. When you arrive to Honeysuckle Hills, you will experience the very fantasy dream you've imagined at the many romantic Smoky Mountain ceremony and photograph locations.
Choose your ceremony location from one of many charming locations on the property. This property is dear to me as it was my Daddy's Hayfield. Tobacco and hay grew in these fields, and now love does! Each location is an expression of the very best the Smoky Mountains has to offer with added romantic touches to celebrate love always. Creekside Pavilion, Creekside Ridge, Mountain View, The Willow Tree, and the Wedding Chapel are all ceremony locations you can choose from at Honeysuckle Hills.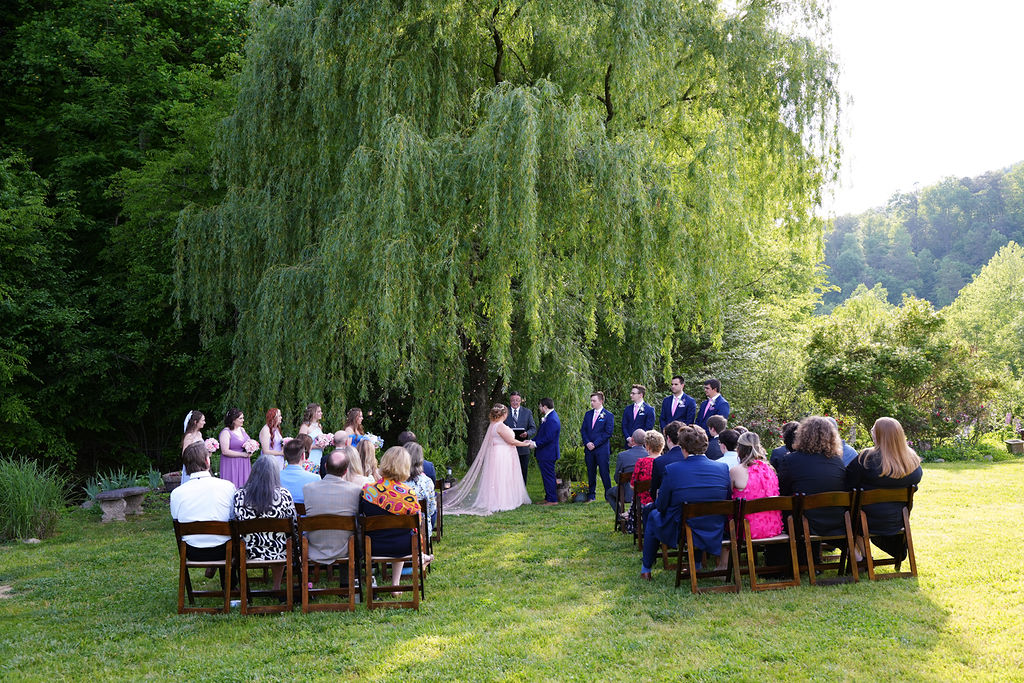 A nature lover's paradise is what you find when you tour the properties. We have spent years developing the natural features of the land that once was my Daddy's. Discover our wedding wonderland of gardens and facilities designed for the most romantic Smoky Mountain elopement or wedding you can dream of.

Planning a family reception in the Smoky Mountains can present it's challenges but not when you choose one of our three packages, designed with what we have learned couples and families need in their celebrations. It is our aim to personally serve your reception so that you are free to absorb the wonder around you on this special day. Honeysuckle Hills offers a level of graciousness that is often not experienced and an important element in the reason why we feel we might be the very best choice for your upcoming family, wedding celebration.